The Herjolfsnes (Ikigaat) finding Museum No. D10624, or Nørlunds No. 99, consists of four pieces of a braided wool cord. I had a lovely afternoon reading up on it and making one, and here is the result.
The Original
The four pieces of wool cord are 14, 12, 14 and 4,5 cm long and the width is either 7-12 mm or 15 mm. In the book "Woven into the Earth" by Else Østergård the width is noted as 15 mm on page 106 and 7-12 mm on page 230, so somewhere in between is probably right 🙂 It is a three strand braid where each strand consists of four threads, each of 1,5 mm thick 2-ply (2Z1S) yarn. The color is not preserved and described as currently reddish-brown, but originally the three strands had different color shades. On two of the pieces there are knots where the braid is tied around itself.
It is described by Østergård as representing a utilitarian object that was probably widespread and common, and it was found near D10588 (Nørlund No. 52). Østergård states that "…Both (braided cords, D10624 and D10622) were undoubtedly used as belts around the waist to hold together loose-hanging garments such as D5674, D10594 and D10595." Although few of the Ikigaat findings are carbon dated the garment D10594, as Østergård mentions, is a wide garment with buttons that is carbon dated to 1305-1375.
Context and visual references:
My first thought when reading about it was to question why it was assumed as a belt, had I ever even seen an illustration of a braided cord belt? Down the rabbit hole the answer was that there were a few illustrations I had seen time and time again with belts looking like cords, I just never noticed before. The Van Der Weyden image below is the only possibly relevant illustration I found showing detail, but if you happen to have any ideas please let me know! I still haven't found a cord/braided belt that I think will serve as a very good visual reference for how this braided belt was worn, and I have yet figure out why Østergård was so certain it is a belt. (Although I totally take her word for it, reading "Woven into the Earth" is like Christmas, my birthday and New Years at once.)
One factor might be that other belts are scarce in the Ikigaat material. From both the light of historical illustrations and a practical context you'd need a belt to do manual labor in clothing cut to this fashion. The two buckles found (in Sandnæs and Umiiviarsuk) were carved in walrus tusk and at Nipaatsoq a brass buckle was found with a piece of leather that might have been a belt. In "Klær og formspråk i norsk middelalder" by Marianne Vedeler she describes "a now green/blue braided cord is found under the garments right armhole. It is about 0,4 cm wide and about 9 cm long, braided from four threads. It continues in one end." -found in Uvdal C. 34866/2851 Grav 33. (Vedeler, Page 128. my rough translation.)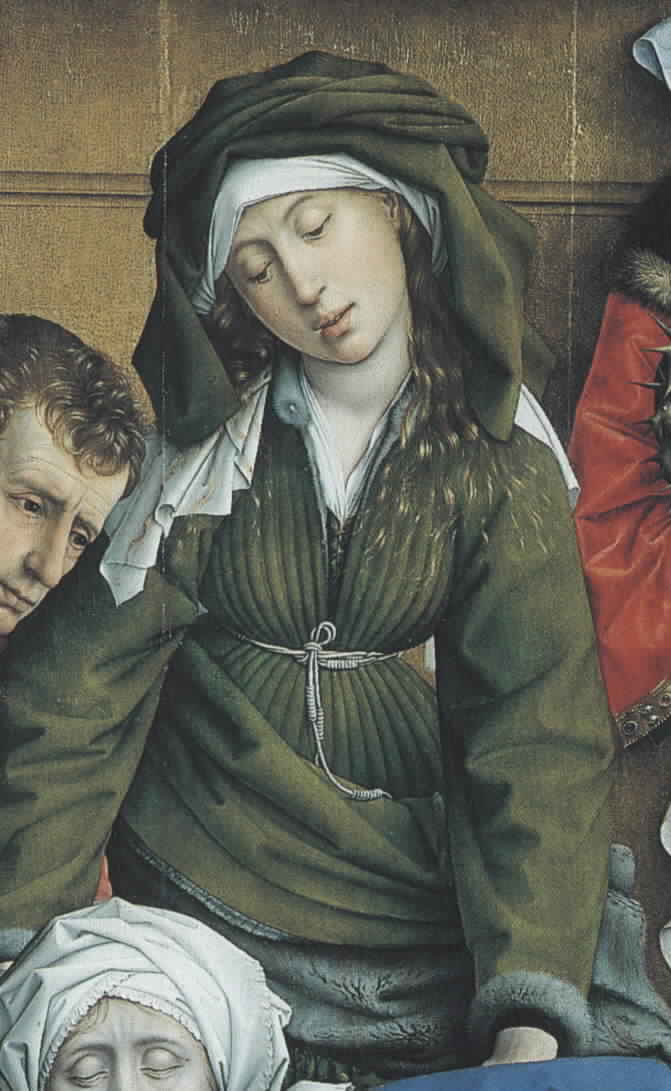 The second question coming to mind was – how long was the original? The combined pieces of 44,5 cm wouldn't make much of a belt for an adult. With only a few illustrations as reference and no one really matching time/area I decides to go with 160 cm more or less because that is the minimum a belt of mine must be. The braided Skjoldehamn belt might perhaps serve as a piece of the puzzle, but it is both dated much earlier and the discussion is still on as far as the Sami and/or Norse origin is concerned. Next try I'll use the Skjoldehamn belt as a reference for length if I can't find anything more relevant, and if I actually manage to find a description specifying the whole length of the thing! I probably just haven't searched in the right places, but judging the museum replicas the belt was pretty long.
As a sidenote I visited the exhibition "Na, maid dal? – Samisk kulturarv på vei hjem" at Alta Museum last year, and got to get a look at a beautiful kofte (kirtle), bought in Øksfjord 1910, and the pattern construction could have been taken straight out of the Herjolfsnes-findings. Especially the "A-lined" side gores, length and sleeve construction. I'm not going to go more into it now, but my guesstimate is that next to cultural exchange, pattern construction techniques(and sewing techniques)  that makes sense when working with fur has had a big influence on both textile traditions.
My try:
I used three shades of wool yarn, each thread two-ply and 2Z1S, which means two threads spun (spunnet) the right and twisted (tvunnet) together to the left to make a two-ply yarn, 1,5 mm thick. In this case that made a cord that was 7 mm wide, but that would depend on how tight you make the braid. If you look at the close-up photos you can see that the original looks pretty tight, and also that the threads of each cord were ordered before braiding similar to what you do when flat braiding. I started out with 3 x 4 lengths of 160 cm yarn and braided from a fixed point on my wall. I also added knots to the finished braid based on the interpretation that the belt might have had knots distributed all over with approximately two knots per 44,5 cm, which along with the simple knotted off endings is a complete guesstimate and might very well not be correct. But the whole thing did make for an easy project and a practical belt, so I am happy.
Thank you for reading and let me know if you have any thoughts!
References:
"Woven into the Earth, textiles from Norse Greenland" by Else Østergård, 2004, Aarhus University press
"Medieval garments reconstructed, Norse clothing patterns" by Lilli Fransen, Anna Nørgaard and Else Østergård, 2011, Aarhus University Press
"Klær og formspråk i norsk middelalder" by Marianne Vedeler, Kulturhistorisk museum, Universitetet i Oslo, 

2006


http://www.academia.edu/1890814/Kl%C3%A6r_og_formspr%C3%A5k_i_norsk_middelalder

Some Clothing of the Middle Ages — Kyrtles/Cotes/Tunics/Gowns — Herjolfsnes 63, 64, by I. Marc Carlson (The garment D10594)
http://www.personal.utulsa.edu/~marc-carlson/cloth/herjol63.html
Rogier van der Weyden 1430-35, Detail from "The Descent from the Cross"
http://www.uvm.edu/~hag/sca/15th/index.html
"The Skjoldehamn find in the light of new knowledge" by Dan Halvard Løvlid, 2010
https://www.academia.edu/14654038/The_Skjoldehamn_find_in_the_light_of_new_knowledge